Choose three historical heroes to inspire a child in this immersive biography book for kids. Learn how rebels have changed the world, and how they can too! Personalized book for age 6 to 10.
"All kids need this book! Our children will be the ones that continue the fight for change." – Kemi
Read reviews
Inspire a child! Add their name to explore the book.
Choose the adventurer in your book
"This book is not only great to inspire younger kids, but also to show older kids that they can be whoever they want to be and make a difference in the world!"
Loved by Tyler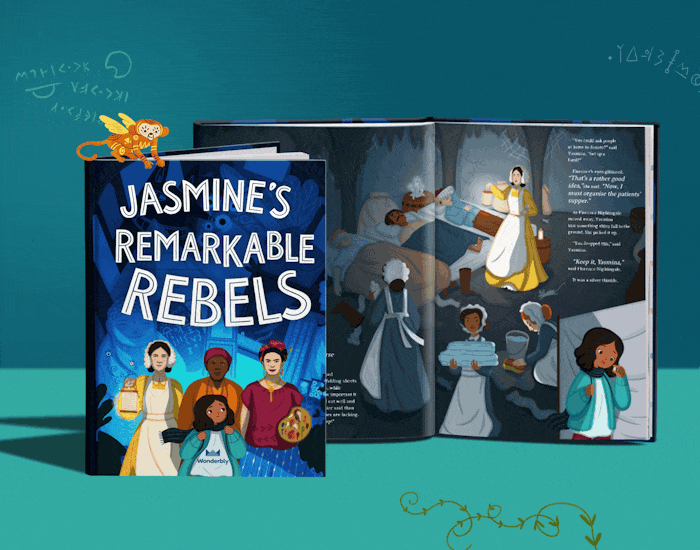 Which rebels will you choose?
Give a child lessons from history's best, from Nelson Mandela to Harriet Tubman to Malala Yousafzai. As if by magic, we transport a child into the pages of the book to bring the rebels' stories to life. Each one passes on an important quality to a child, from courage to creativity.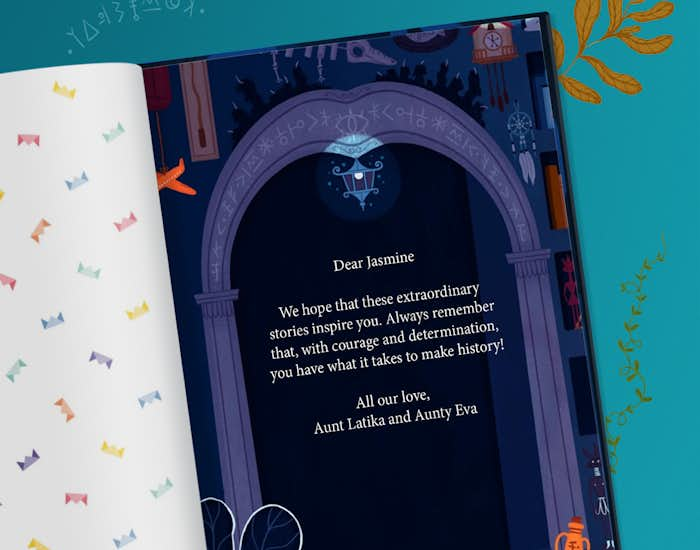 A gift that calls to courage everywhere
You're never too young to change the world. This biography book is the perfect gift to educate, empower, and inspire a young person in your life. You can even pen your own motivational dedication to appear on the front page, totally free.
Reviews
History is changed by rebels. I am a rebel myself and buy your books for my granddaughters. My youngest is a rebel too and I want her to embrace that.
This book is not only great to inspire younger kids, but also to show older kids that they can be whoever they want to be and make a difference in the world!
I love this book. Children should know that if you feel strongly about something you should stand up for it. Even if people don't agree.
This book reminds kids they can do anything, be anyone!
The days are changing and the ways we teach our children are too. We want them to know they need to break walls and boundaries and give the future something better!
FAQs
What age is this book for?
We think children are never too young to learn about inspiring people. However, we wrote this biography book with children aged 6 to 12 in mind. Younger readers will enjoy having it read to them and exploring the rich, illustrated pages. And older, independent readers will be able to dive in and explore for themselves!
What occasion is best to buy it for?
A personalized children's book makes a jaw-droppingly unique gift for any occasion. Children love nothing more than to see their name and character in their very own book, and studies have shown that it also has a profound effect on the way they relate to storylines and characters. This personalized history book for kids makes the perfect gift for birthdays, back-to-school, Christmas, and graduations.
How can I personalize the book?
• Child's name and character: add a child's name to the story, and see it magically appear on the cover, throughout the story and in the illustrations. We've designed six adventurous characters to choose from, for both boy and girl. Select their gender, then choose from a selection of natural hair and skin tone options.
• Choose three historical figures: select the three remarkable rebels you most want to inspire a child, from Martin Luther King Jr., Harriet Tubman, Frida Kahlo, Florence Nightingale, Amelia Earhart, Nelson Mandela, Malala Yousafzai, and Leonardo Da Vinci. Each rebel has a particular quality they pass on to the child.
• Choose a cover color: choose from Amethyst, Turquoise, Amber, or Sapphire. A child's name and character also appears on the cover of the book with their specially-selected rebels, making each copy utterly unique.
• Write a free custom dedication message: use our pre-written dedication or pen something all your own, for a personal dedication to inspire a child for all the years ahead.
Which historical figures can I choose?
You can choose three Remarkable Rebels from a choice of eight. We've chosen each one for their heroism and impact on history, and in the story each one passes on a particular quality to a child. Choose from:
• Martin Luther King Jr. (Faith)
• Harriet Tubman (Courage)
• Frida Kahlo (Creativity)
• Florence Nightingale (Self-belief)
• Amelia Earhart (Passion)
• Nelson Mandela (Resilience)
• Malala Yousafzai (Determination)
• Leonardo Da Vinci (Curiosity)
More Wonderbly books to make your child feel loved
Get more clever ideas and swashbuckling updates