Christmas magic for children's charities
We're giving away 500 free softcover Lost My Name books to incredible children's charities this Christmas. Nominate one you know!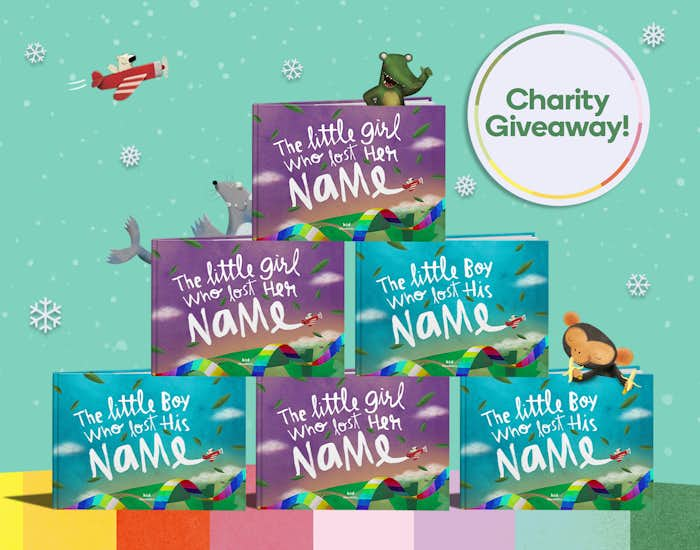 Nominate your favorite charity
There are so many amazing charities that have helped children thrive during this challenging year. To help sprinkle a little sparkle and joy to their work this Christmas, we're giving away bundles of our bestselling personalized book Lost My Name, to charities nominated by YOU! Know a fantastic kids' charity? Nominate them to receive a bundle below!
How to apply
• Fill out the form below, telling us a bit about the charity you're nominating. You can be an employee of the charity or just a fan! 
• Nominations will close on 14th November 2020 and there are 500 books available. Nominations must be for a minimum of 30 books and to a maximum of 500 books
• We'll randomly select charities and send their books bundles. Depending on the charity location, they may even arrive in time for Christmas!
*By applying, you agree to our T&Cs (which you can read below). The giveaway will end on 14th November 2020. View our Privacy Policy here
Terms & Conditions for Christmas Charity Giveaway
• Eligible nominations must be for a minimum of 30 books and to a maximum of 500 books
• The book gifted may only be a softcover version of Lost My Name 
• We will be giving away 500 softcover versions of Lost My Name 
• Standard delivery only
• Promotion will end on 14th November 2020 
• All nominations must be submitted by 14th November 2020
• Winners will be contacted via email before 10th December 2020 
• Nominations must be for UK or US registered charities
• Successful nominations will need to provide a first name and a choice of avatar for each Lost My Name book gifted in order for their Lost My Name book to be created. Successful nominations will be contacted by a member of the Wonderbly team and asked to fill out a form to collate these stated details. 
• Read how we collect and protect your data in our Privacy Policy