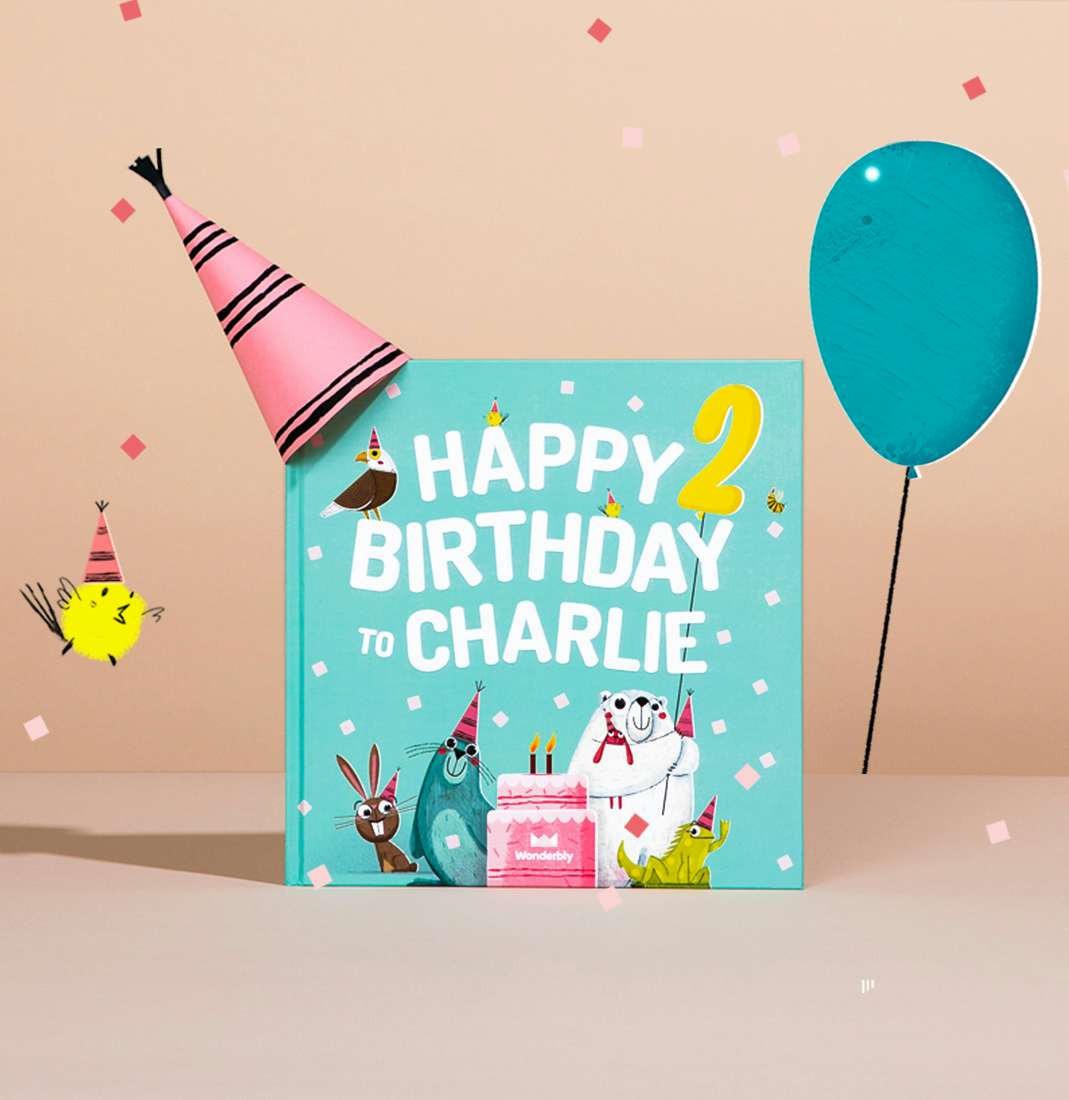 This birthday, give a child a creative gift that no one else in the whole world will have. Just add a child's name and choose their age, and shazam! Watch their unique, interactive birthday story burst into life – personalised from the front cover to the final spread.
Recommended for ages 0-4
Preview all 28+ pages before buying
Ships worldwide within 48 hours
"The concept is creative, unique and very much an interactive reading adventure any kid would love!" – Kirsten
Read reviews
Create and preview the child's entire book
"Has everything little kids love: cake, animals and their own name in print!"
Loved by Jenna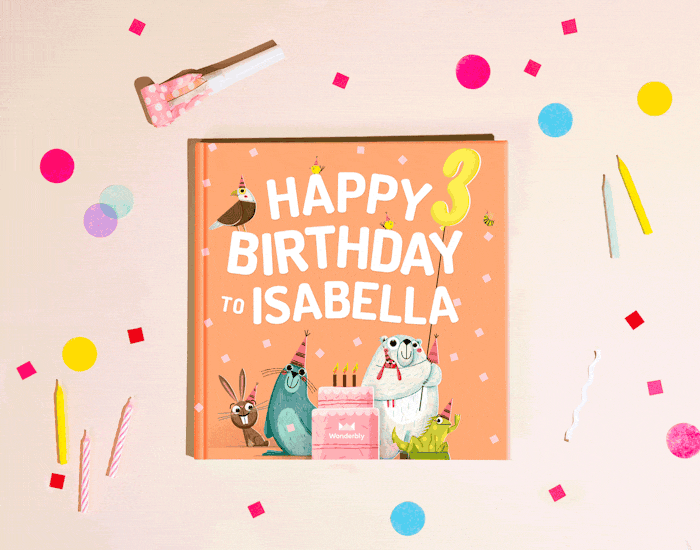 Every name gets its own special story
Add a child's name, and watch their unique birthday book burst boisterously into life! From the front cover to the animals inside, the whole book magically changes based on each letter.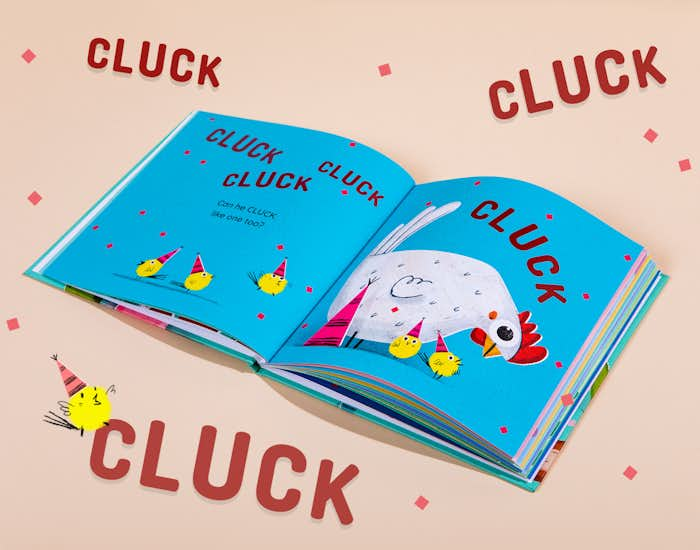 A read-aloud, action-packed hullabaloo
Written in hilarious rhyme, your child (and you!) must join in with the animals to make all the noises and actions – inspiring giggles every time it's read out loud.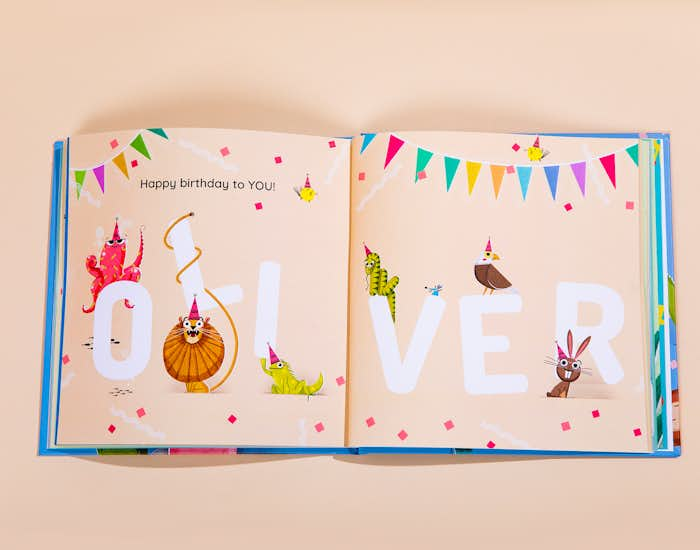 Mischievous animals make learning letters fun
From clapping seals to wriggly eels (and a cheeky fox or two), each animal holds a clue as to whose birthday they could possibly be celebrating...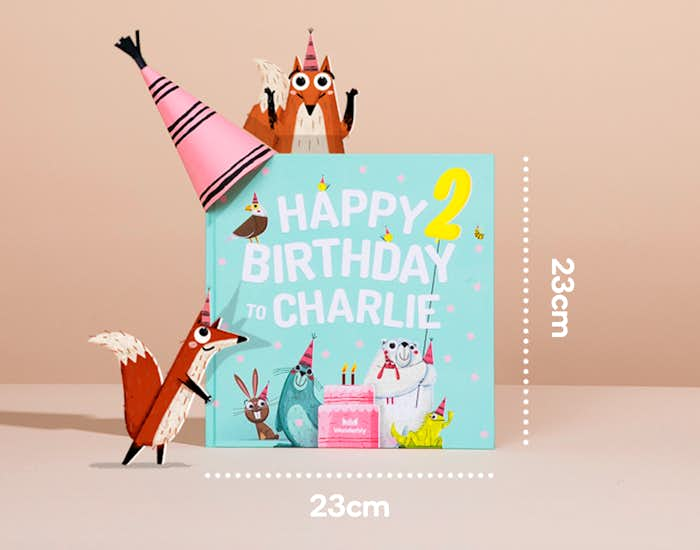 The perfect gift for little hands
Available in toddler-friendly hardcover or softcover (23cm x 23cm), each book is printed on thick, sumptuous paper that's partly recycled (FSC-certified). Add a child's name and age to the front cover and pick from 4 fabulous colours – the icing on the cake!
FAQs
What age is the book for?
We wrote our personalised birthday book with ages 0 to 4 in mind, but you can make the book for any age up to 9. With its read-aloud rhymes, animal noises and actions, it's perfect for kids who love to join in during storytime!
How can I personalise the book?
• Child's first name: every name gets its own unique story, with a special cast of animal characters for each letter! Their name appears on the cover and at the end for a big reveal.
• Child's age: totally optional, but you can add a child's name to see it on the cover in a balloon and the number of candles on the cake.
• Favourite colour for the cover: choose from Minty Green, Sky Blue, Pastel Violet or Summer Melon.
• Your free personalised dedication message: Mark their birthday milestone by adding your own dedication. We'll print up to 400 characters and 10 lines right at the start of the story, for free.
How is the story interactive?
It's someone's birthday, but whose...?! The story asks your little one to guess, by introducing an animal for each letter of their name. For example, a book for Oliver will include an Octopus, Lion, Iguana, Viper, Eagle, and Rabbit. They will have to act out a noise or action for each animal, like wriggling like an eel or clapping like a seal! It's guaranteed to have you both in fits of giggles each time it's read out loud.
Do you have any other birthday books?
Absolutely! If you're looking for a birthday book for slightly older children (age 3 to 10), might we recommend The Birthday Thief? It's a unique birthday story totally customised around a child's name and date of birth. But really, any of our children's books make the perfect personalised birthday gift!
Is the book format suitable for toddlers?
Yes! Our children's birthday book is available in softcover edition to make it extra portable. Or you can upgrade to hardcover for something even sturdier and long-lasting. Our thick, child-friendly paper is top quality for little readers.
More Wonderbly books to make your child feel loved
Get more clever ideas and swashbuckling updates