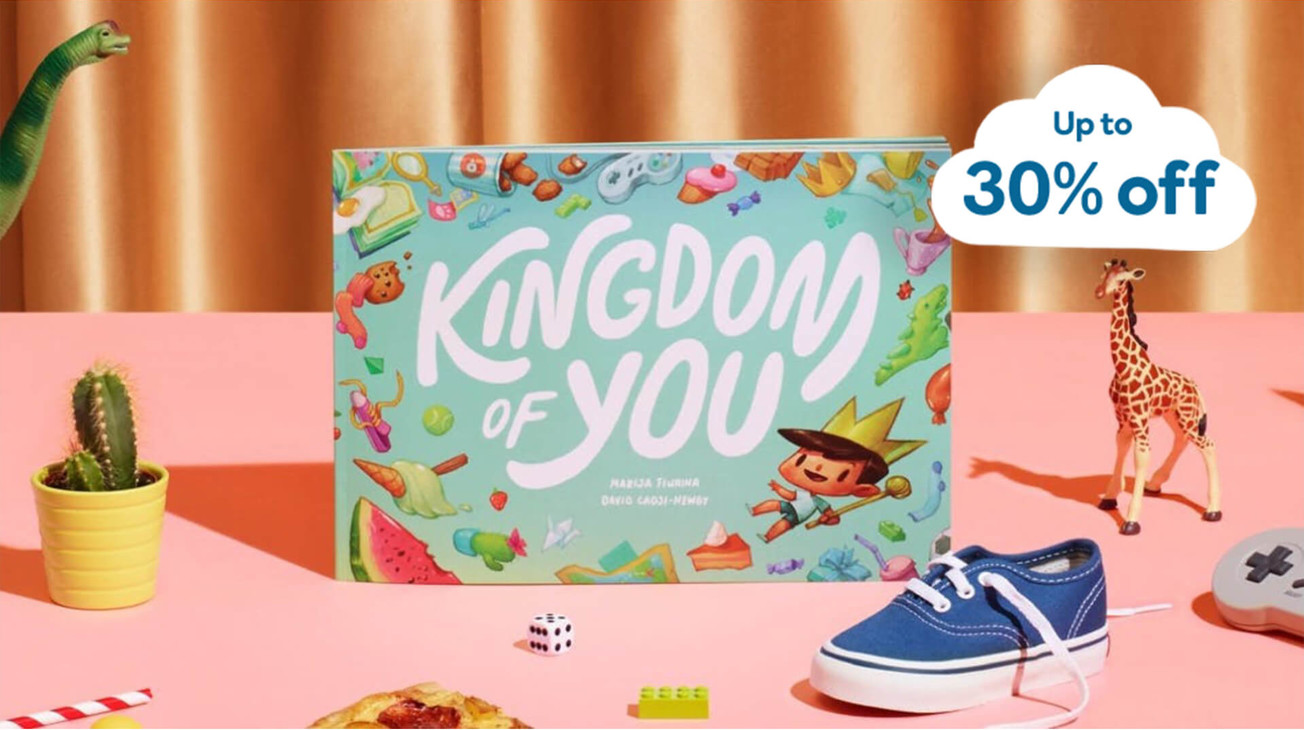 Kingdom of You
$24.99
From the makers of 2017's best-selling picture book. Kingdom of You is a lavishly personalised story, bursting with your child's favourite things. Just enter their name and decide what to fill their kingdom with.
Name the kingdom after them
Your child will be flabbergasted when they open the book and see their name...well, everywhere. Magic!
Choose your cast of characters
Pick characters your little one will love. Like superheroes, princesses or dinosaurs. Kazam! The whole story changes, like magic.
Pick a mouth-watering treat
Choose from four feast-worthy favourites. But beware. There might be more to a monster slice of pizza than meets the eye...
Perfectly personalised
Choose an exquisitely-illustrated character that resembles your little one. They'll feel like they're truly the star of the story.
Write a marvellous message
Start your child on their fantastic journey with a customised dedication. We'll print it at the beginning of the story. For free.
Fit for a queen (or king)
Each book is A4 (8.27 inches x 11.69 inches), softback and 36 pages long. It's printed on thick, luxurious Mohawk paper that's partly recycled (FSC-certified) and built to last. So it's a keepsake that's good for our global kingdom, too.
It's amazing
My book arrived for my niece today, kingdom of you, it's amazing and I can't wait to give it to her. Will be recommending this to everyone that... See more
Wonderful concept
Her Majesty The Story Queen thoroughly approves this wonderful concept. High five guys!
Center of their own adventures
My sons love being at the center of their own adventures in all the Wonderbly books! And this time, they were pretty excited that the things they... See more
Beautifully illustrated
Just received "Kingdom of You" for my Grandson which I will be giving him as an Easter present. It is beautifully illustrated and I am sure that... See more
Truly awesome idea
My son loves his book!! This is a truly awesome idea
A joy to read
I bought this for my son's second birthday. He was excited that he was in the story and loved seeing dinosaurs and pasta everywhere! It was a joy... See more
We looooove it!!!
Kingdom of You just arrived. We looooove it!!! Thank you!