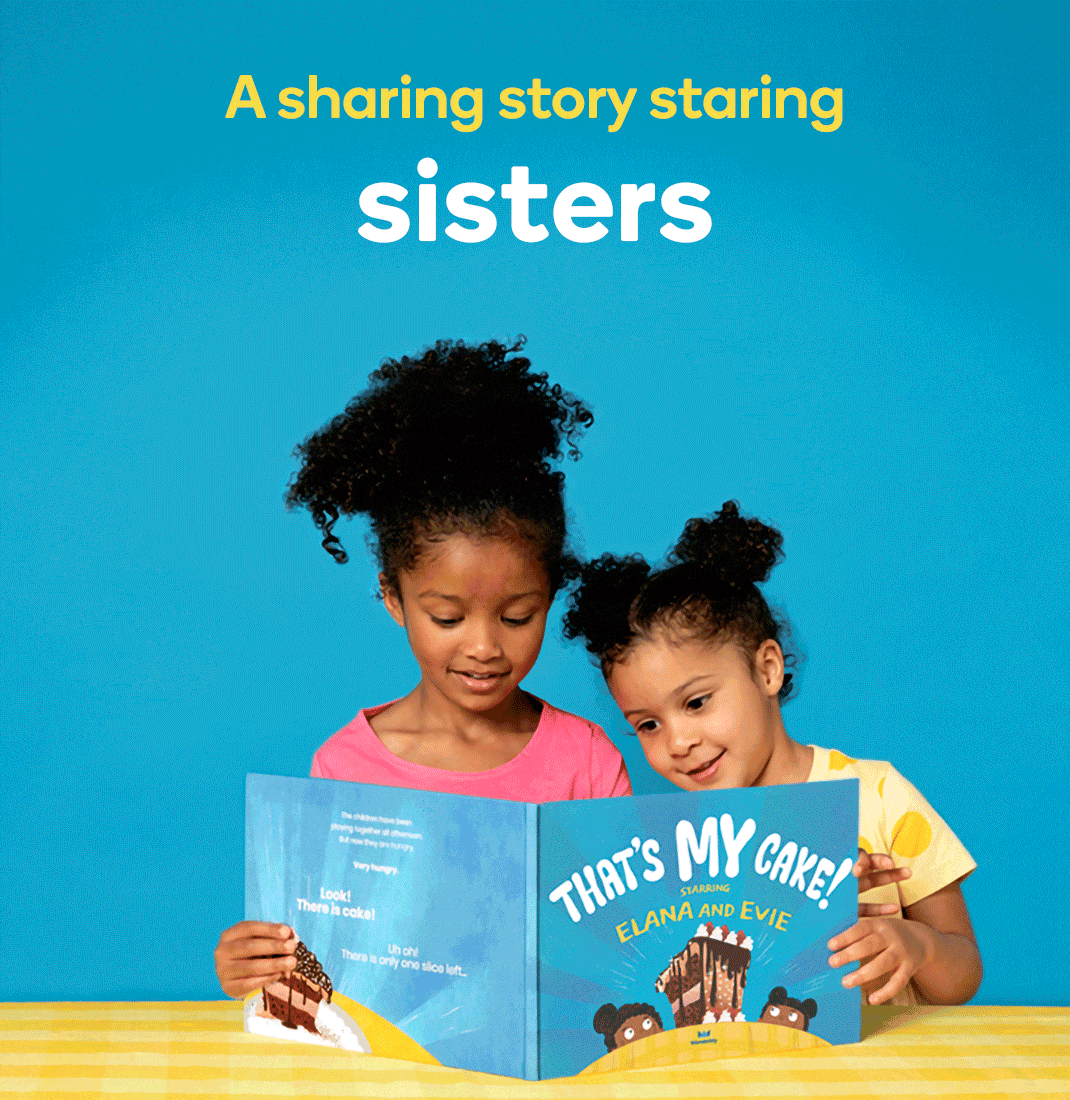 A personalised sharing story – for siblings, cousins or friends! Packed with mind-boggling personalisation, hilarious sibling fun, and a tasty lesson in how to share. Include 2, 3 or 4 children to make the perfect gift!
Recommended for ages 0 to 8
34 pages (however many kids you include!)
Ships worldwide within 48 hours
"I have two boys who need to learn to share. This is the perfect book!" - Katy
Read reviews
Start by adding two children (add more later)

"I love the theme of sharing in the book — and to have it personalised ensures it resonates even better with my kids!"
Loved by Sarah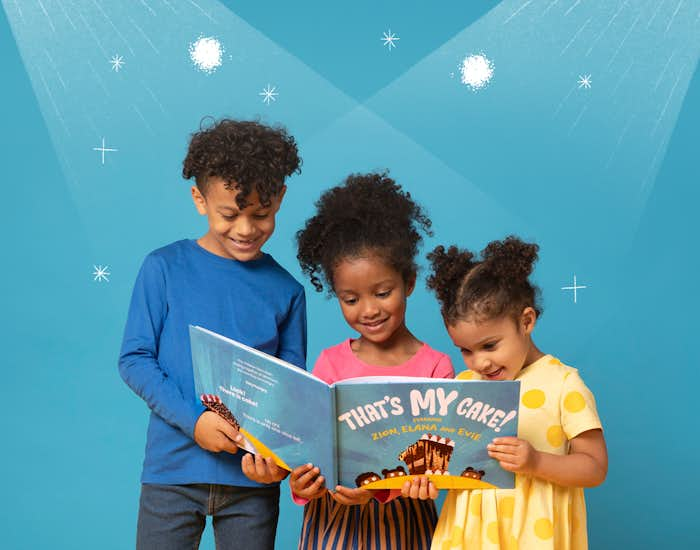 New! A story for 2 to 4 children
Children can star together in this sweet, nutty adventure all about the importance of sharing. Personalised from the front cover to the final page, it's a treat that can be read together again and again.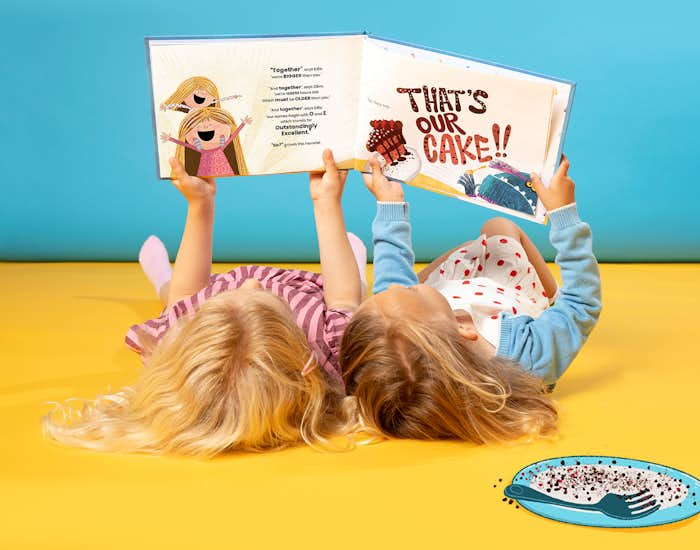 Teach kids all about teamwork
Uh-oh… there's only one slice of cake left! Who should eat it? The oldest? The youngest? The fastest? By the end of the story, siblings learn they're stronger together and that life tastes better when it's shared.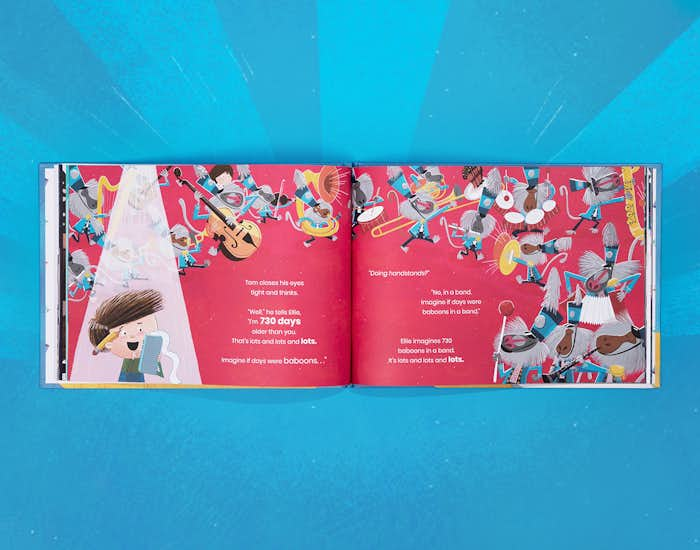 Show-stopping personalisation
It's our most extraordinary personalised book yet! Customise the story with up to 4 kids' names, pick their characters, and add their birthdays for a unique, one-of-a-kind reading experience.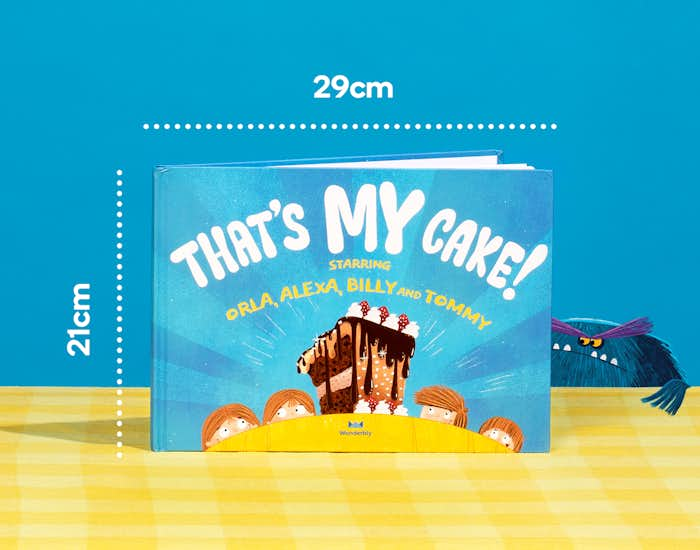 The perfect size for sharing
Available in super-sturdy hardback and our softcover classic to survive lots of shared reading sessions! Each book is A4 sized (29cm x 21 cm) making it easy for many hands to hold. Printed on thick, sumptuous paper that's partly recycled (FSC-certified).
Reviews
The book I've been waiting for
A story based on a positive sibling relationship is so sweet!
Teamwork makes the dreamwork
It teaches kids what happens by not sharing. And how by working together they can accomplish anything.
Will be recommending this to all my fellow parents
I've always struggled with teaching my kids the importance of sharing and working as a team. Although, they've started to be more aware of this, I want to encourage this idea that remains forever with them.
Helps teach good life lessons + a giant cake - is a winning combination in my book!
Every little helps in the development of children and something like this can helps install (in a fun way) some of the important values in life.
A classic to enjoy again and again
A wonderful lesson that teaches children to share.
That's MY Cake! FAQs
What age is the book for?
This sweet sharing story is written for children aged up to 8 years and is designed to be read together with twins, siblings, cousins or friends. But there's no maximum limit for this book, because we believe you're never too old to share!
How does this book help kids learn about sharing?
Who will get the last slice of cake? The delicious dilemma in this tasty tale will help twins, siblings, cousins or friends learn that they're stronger together and that life tastes SO much better when it's shared. Each child gets a starring role in this sweet adventure, encouraging them to read and share together. Guaranteed to turn squabbling siblings into loving playmates!
How can I customise the book? 
• Choose 2, 3 or 4 children: Whether they're twins, siblings, cousins or friends. 
• Child's first and last name: Their names appear on the front cover, and throughout the story. 
• Child's adventurer: We've designed six little characters to choose from, for both boy and girl. Select their gender, then choose from a selection of natural hair and skin tone options.
• Dates of birth (optional): Add in the children's dates of birth and we'll cleverly calculate how many years, days, hours and minutes older they are than each other! 
• Favourite color for the cover: Choose from Blueberry Burst, Raspberry Ripple, Lime Green or Vanilla Sundae. The children's names and adventurers also appear on the front cover, making each book utterly unique.
• Your free personalised dedication message: Make your gift extra-memorable by adding your own dedication. We'll print up to 400 characters and 10 lines right at the start of the story, for free.
What occasion is this book suitable for?
This timeless tale is perfect for any occasion and an ideal gift if you're looking for one present for twins, multiple siblings, cousins or friends. It can help bring the family together at Christmas, soothe lockdown squabbles or generate giggles at family gatherings.
Do you have any other customised books for siblings?
If you're looking for stories to help little ones celebrate their friendship, learn to share or find their place in an expanding family, look no further. We have lots of personalised stories where everyone is invited, including A New Sibling for You, Happy Bonkers Birthday! and The Christmas Snowflake.
More Wonderbly books to make your child feel loved
Get more clever ideas and swashbuckling updates