Choose four festive wishes for a child to discover under the tree. A spellbinding personalised Christmas book that teaches children the true meaning of the season. Perfect for ages 0 to 8.
Read the whole book before you buy. Just add a name!
Choose the adventurer in your book
"This book is absolutely beautiful. I love that I can choose the wishes specifically for my child. I know my daughter will keep this forever."
Loved by Alison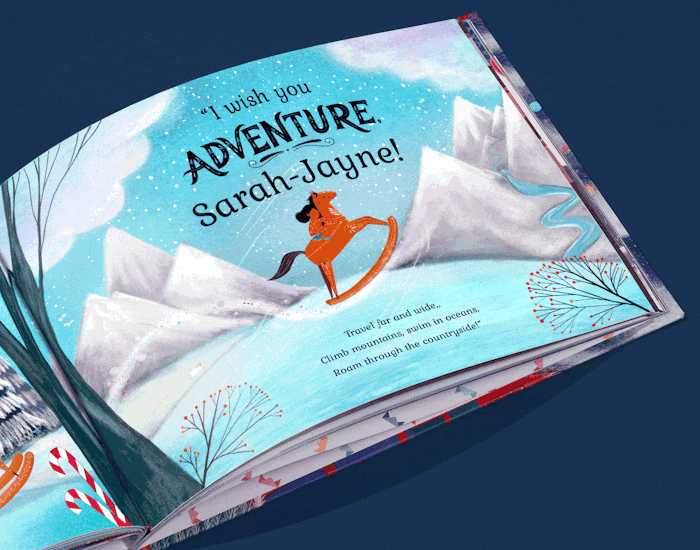 A Christmas story that never grows old
Written in charming rhyming verse, and with illustrations that transport you to a wintry wonderland, it's the perfect story to share together every Christmas. Make it your new festive family tradition!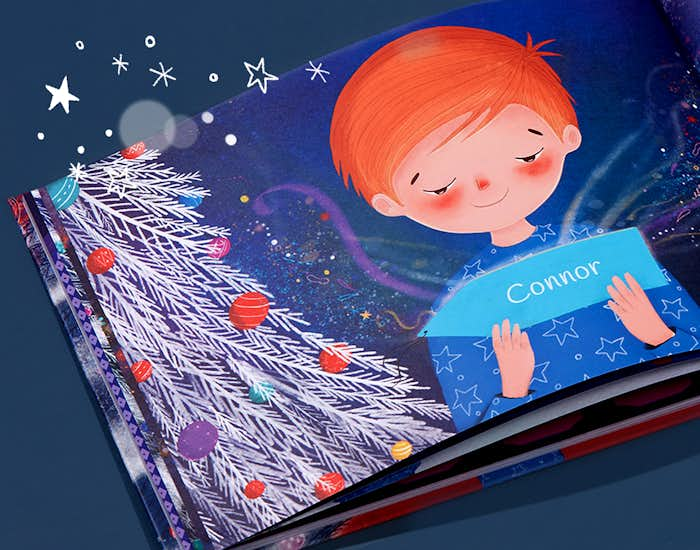 For a gift as unique as they are
Nothing beats the moment of wonder when a child realises the story is all about… them! Give a truly meaningful, memorable gift this year, that's sure to be treasured for many marvelous Christmases to come.
Reviews
This book is absolutely beautiful. I love that I can choose the wishes specifically for the child - I know my daughter will keep this forever!
A gorgeous book, with a beautiful message
A great Christmas gift that children (and their parents) will love!
A beautiful Christmas gift to treasure
A really great book to read on Christmas Eve that will become our new Christmas tradition!
FAQs
How are your Christmas books for kids personalised?
• Child's name and character: add a child's name to the story, and see it magically appear on the cover, throughout the story and in the illustrations. We've designed six timeless illustrated characters for you to choose from, for both boy and girl. Select their gender, then choose from a selection of natural hair and skin tone options.
• Choose four wishes: now comes the really fun bit – you get to play fairy godparent, choosing four precious Christmas wishes to share with the child! Select from Compassion, Adventure, Strength, Friendship, Wisdom, Joy, Patience, Wonder, and Laughter.
• Write a free custom dedication message: use our pre-written dedication or pen something all your own, for a personal message a child can treasure every time they open the book.
What age is this book for?
We created Christmas Wishes for You with children aged 0 to 8 in mind. It's a wonderful present for a baby's first Christmas, to be enjoyed every year as they grow. It makes a delightful gift for independent readers who'll love seeing themselves as the hero of their own Christmas story. And of course, it's just perfect for curling up and reading together with a special grown-up.
What's the best occasion to buy for?
Without a doubt, it makes the perfect personalised Christmas gift! But there's nothing to stop you buying our Christmas books for any occasion all year round, from children's birthdays to special milestones.
Can I get my Christmas book gift wrapped?
Why yes, you can! You have three formats to choose from, each one perfect for gifting in their own way:
• Classic Softcover edition
• Sturdy Hardcover edition
• Softcover Keepsake edition – which comes presented in a lovely presentation box
We can also gift wrap your book in a fantastically festive design, which is ideal if you're sending a book directly to a child. Or, you know, if you don't like wrapping presents! (Luckily our gift wrapping elves love doing that.)
More Wonderbly books to make your child feel loved
Get more clever ideas and swashbuckling updates