My Golden Ticket
A personalized story in collaboration with Roald Dahl
This book gives every child a unique adventure in Willy Wonka's factory. In Roald Dahl's original, there were only five Golden Tickets in the whole world. Now every young reader can have one.
"I always loved Charlie and the chocolate factory as a kid and I think this book and its personalization is brilliant!"
Start by entering your name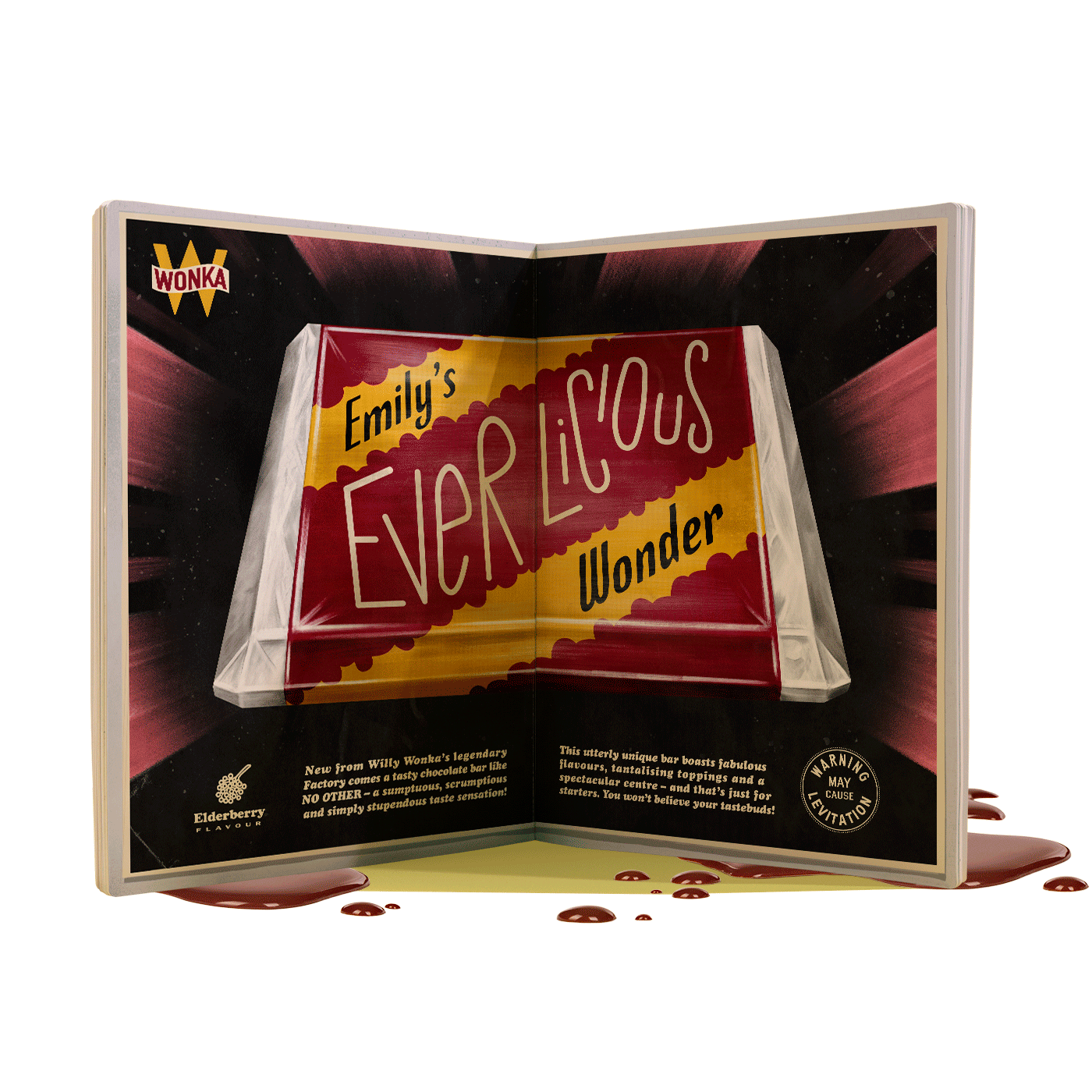 A delicious double-page 
with their own unique Wonka bar
In the story, each child stumbles across different flavours, textures and 'fizzical effects' inspired by the letters of their name. Thanks to some Wonka magic, these all come together to create a glorious, personal candy bar. It is only a picture though, so please don't try to eat it.
A delightfully personalized Oompa Loompa song
Perhaps the most mind-boggling moment of all. At the end of their adventure, each child's experiences are remarkably retold in rhyme. It's the special moment they realise that everything that's happened in the story has been inspired by their name.
A visual treat of wonderful Wonka inventions
The story is told in the form of a personal journal, recounting the child's adventures. It's overspilling with flyers and wrappers from secret new Wonka inventions, seemingly snaffled from the factory. Exhilaration guaranteed.
Perfect gift for kids 5-12 years
Gold-quality specifications
Each book is printed on scrumptiously smooth 150gsm paper with a shimmering, golden foil-block cover. It comes in hardback (7.9" x 10.7") or softcover (7.7" x 10.4") and it varies in length between 36 and 40 pages, depending on your child's name. This is an unforgettable keepsake by any stretch of a child's imagination.